A Professional Learning Opportunity: Translating the Arizona Science Standards into Instruction and Classroom Assessment
ASTA's A Deeper Dive: Constructing Phenomena-based Units in partnership with Arizona Department of Education (ADE) is a rigorous professional learning program that establishes a meaningful context for teachers to develop an understanding of The Framework, Working with Big Ideas of Science Education, and the AzSS. The professional learning series utilizes steps and processes to support high school educators in translating science core ideas, practices and crosscutting concepts into multiple-lesson instructional sequences to create AZ Science Standards (AzSS) units with assessments.
A Deeper Dive into Constructing Phenomena-based Units will include multiple days of professional learning as well as outside time for collaborative unit and assessment development.  All in-person sessions will be held in the Phoenix area. Participants will receive $1200 in compensation for completion of the professional learning and unit development.  In addition, one member of the team will serve as the team leader and receive additional compensation up to $1000 for additional work and meetings.
Dates and Deadlines:
June 12-16, 2023: Professional Learning Session I: Unpacking standards, experiencing model lessons, developing Evidence of Learning statements (EoLs), using rubrics to select resources, and beginning development of a sequence of instruction. In person
June 22 or 29, 2023: Instructional Sequence Development Check-in. Half-day Virtual
July 13, 2023: Professional Learning Session II: Performance tasks. Virtual
July 27, 2023: Instructional Sequence Development Check-in. 1.5 hour Virtual Between July 27-August 31, 2023: Scheduled Check-in with Leadership Team
August 31, 2023: Draft Unit Submission to Leadership Team for Review
October/November, 2023: Scheduled sessions with reviewers to receive feedback on draft units  (Dates & time determined by teams). Virtual
November 2-3, 2023 (Tentative date): Professional Learning Session III: Sharing units and
Celebration during ASTA conference. In Person
December 1, 2023: Final submission of unit to leadership team
December 20, 2023: Evaluation Submission and optional webinar
Important: In order to complete the unit development process, additional collaboration time with your team will be needed beyond the professional learning sessions. 
Apply by 10 pm on Wednesday, February 1, 2023. 
View more details on the event here: https://azsta.org/high-school-deeper-dive/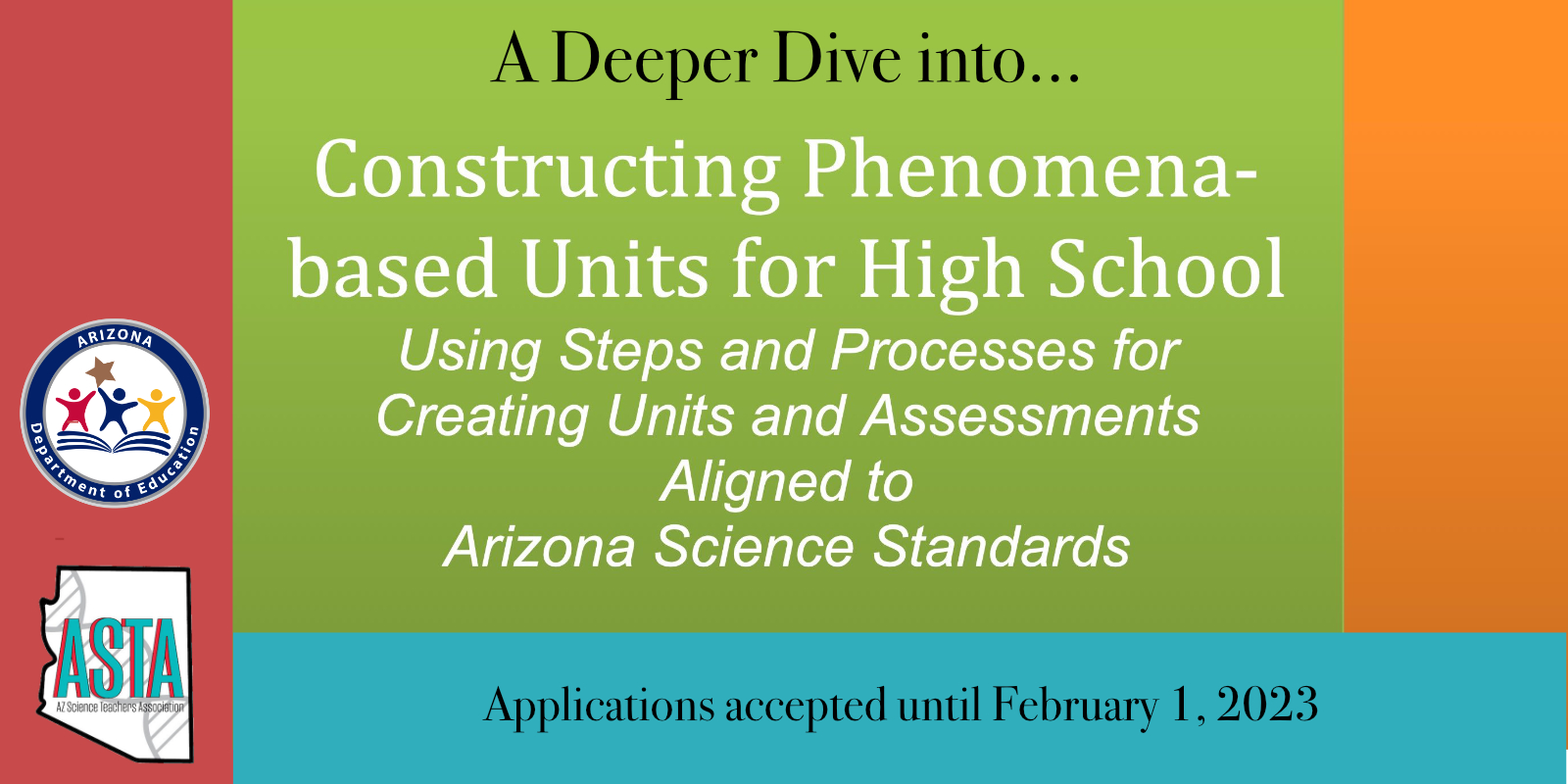 For questions regarding this resource, please contact Arizona Science Teachers Association.
Email Address:

deeper_dive@azsta.org