CSTA-Arizona is proud to announce the return of CSPD Week, brought to you by the national Computer Science Teachers Association (CSTA), the Arizona CSTA Chapter, the Arizona Department of Education (ADE), the Arizona Science Center, and Xavier College Prep
CSPD Week is a 5-day event featuring different strands of high-quality CS professional development. When you register, you can select a strand according to your interests and grade level. During the week, you will be in a cohort of other teachers learning the same concepts together.
When: June 19th-23rd
Where: Xavier College Preparatory, Phoenix AZ
Who/Which Sessions: Check out our workshop catalog!
Cost: $50 until May 2nd, then $75 afterwards. This primarily offsets venue and meal fees.
Sessions can work towards the Arizona CS Endorsement and are aligned to the CSTA Standards for Computer Science Educators
Breakfast and Lunch is provided, along with a few after-hour social opportunities, allowing you to network with other CS educators at the conference.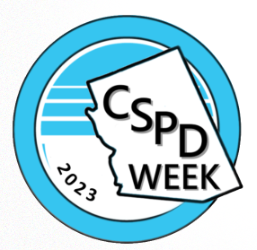 ---
Tucson Values Teachers is providing limited scholarships for educators to attend PD opportunities, if you are interested, click here for more information
---
For questions regarding this resource, please contact Computer Science Teachers Organization (CSTA-Arizona).