Registration is now open for CSPDWeek 2022 in Phoenix, Arizona! This 5-day professional development summit includes several strands to choose from to meet your needs. Join a community of K-12 educators to learn, network, create community, and continue to expand high-quality, inclusive, and rigorous Computer Science education for all K-12 students across the state of Arizona.
This year, we are proud to offer the following strands for educators to participate in. Each strand is aligned to the Arizona Computer Science Endorsement.
CS in Elementary Classrooms, in partnership with Code.org, BootUp, and CSTA-Arizona
Integrated Computing through Robotics, in partnership with the STEMAZing Project
Physical Computing and Game-Based Learning, in partnership with Microsoft Makecode
CS Discoveries, in partnership with Code.org
AP CS Principles, in partnership with Code.org
Introduction to Python, in partnership with WeTeach_CS
AP Computer Science A, in partnership with Code.org
Data Science, in partnership with Bootstrap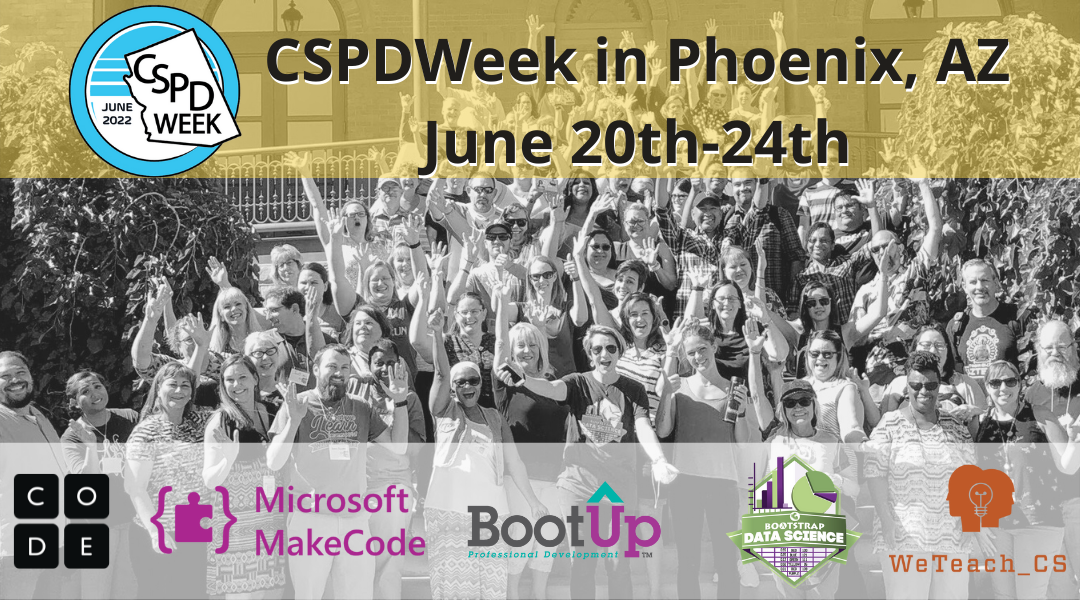 For questions regarding this resource, please contact Computer Science Teachers Organization (CSTA-Arizona).