Program goal
Participants will learn how to provide equitable, inclusive early learning environments that help all children and parents thrive and will study the new book from the National Association for the Education of Young Children: "Developmentally Appropriate Practice in Early Childhood Programs Serving Children from Birth Through Age 8" (published in fall 2021).
About the DAP ECHO
Participants will be compensated for their time and will have access to reflective, guided opportunities to study their own work with children to strengthen connections and create culturally and contextually responsive environments.
Additionally, the providers, site or school will receive the following resources as workforce development and child care employment benefits and retention strategies for their participation:
Training materials, including a copy of the DAP book for each of your participating staff.
Stipends for paid training time or to cover the cost of substitutes for your staff to attend training.
One entry-level NAEYC membership for each of your participating staff.
Classroom supplies to increase the quality of early learning environments aligned with DAP.
Access to expert trainers and facilitators with a wealth of knowledge in DAP.
At least 16 hours of professional development credit in the Arizona Early Childhood Workforce Registry around child growth and development, curriculum and learning environment, and effective interactions. Great for new staff!
Certificate with professional development training hours.
Individualized coaching and job-embedded professional development catered to your program to develop teaching and leadership skills.
Who should attend?
Early childhood educators and administrators from the same private and/or non-profit child care programs in Maricopa County. Space is limited.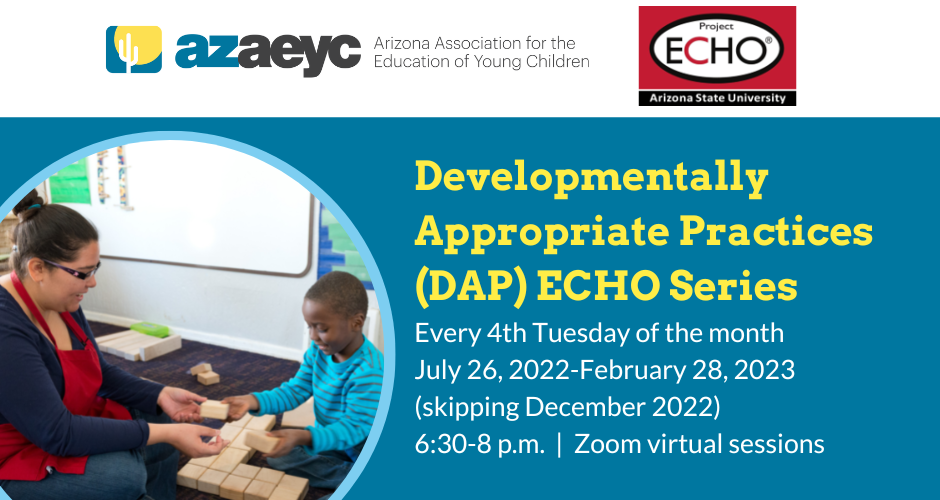 For questions regarding this resource, please contact Project ECHO.
Contact Name:

Eric Bucher

Email Address:

info@azaeyc.org