The Data Sciences Academy (DSA) is excited to host Parallax, a hardware and software developer with a commitment to teacher education in robotics for the classroom, STEM and STEAM initiatives, and technology literacy in every academic field, (https://learn.parallax.com/educators/info/welcome). Ari Alvarez, the Vice President of Parallax, will present on December 3, 2023 on the UArizona campus for a half-day exploration for K-12 formal and informal educators that are interested in bringing programming and creative problem solving into your classrooms.
A micro:bit, lunch and PD certificates will be provided.
NO PREVIOUS EXPERIENCE REQUIRED.
It is our hope, that at the end of this half-day gathering, you will be better informed to bring emerging technology learning opportunities for your students. New to micro:bit? "The BBC micro:bit is an award-winning programmable device that allows students to get hands-on with coding and digital making," (https://microbit.org/get-started/getting-started/introduction/). Micro:bit features include radio and Bluetooth antenna, processor and temperature sensors, compass, accelerometer, buttons, micro USB socket, LED display and light sensor, microphone and speaker. Imagine the possibilities! Take a look at the project ideas that teachers are using, https://makecode.microbit.org/projects/.
This FREE workshop is sponsored by Parallax, Computer Science Teachers Association of Arizona, and the Institute for Computation and Data-Enabled Insight (ICDI) at the University of Arizona.
Location:
ENR2 Building
Slot Canyon Cafe, First floor
1064 E Lowell St
Tucson, AZ 85719
Schedule for Sunday, December 3, 2023
11:00am – Welcome, Lunch, Meet and Greet, Technology playground
12:00pm – Parallax introduction and beginners training in micro:bit
1:00pm – Schedule of 45 minute hands-on sessions
3:30pm – Small Group Reflection, Closing, PD certificates
A more detailed schedule of events can be found here, https://docs.google.com/document/d/1Kewvr75b6C3tkOPPSnqVMo9_1NP_10wR89MTEwAC7zM/edit?usp=sharing. In the meantime, questions may be directed to the DSA at dataacademy@arizona.edu.
See you soon!
Data Sciences Academy team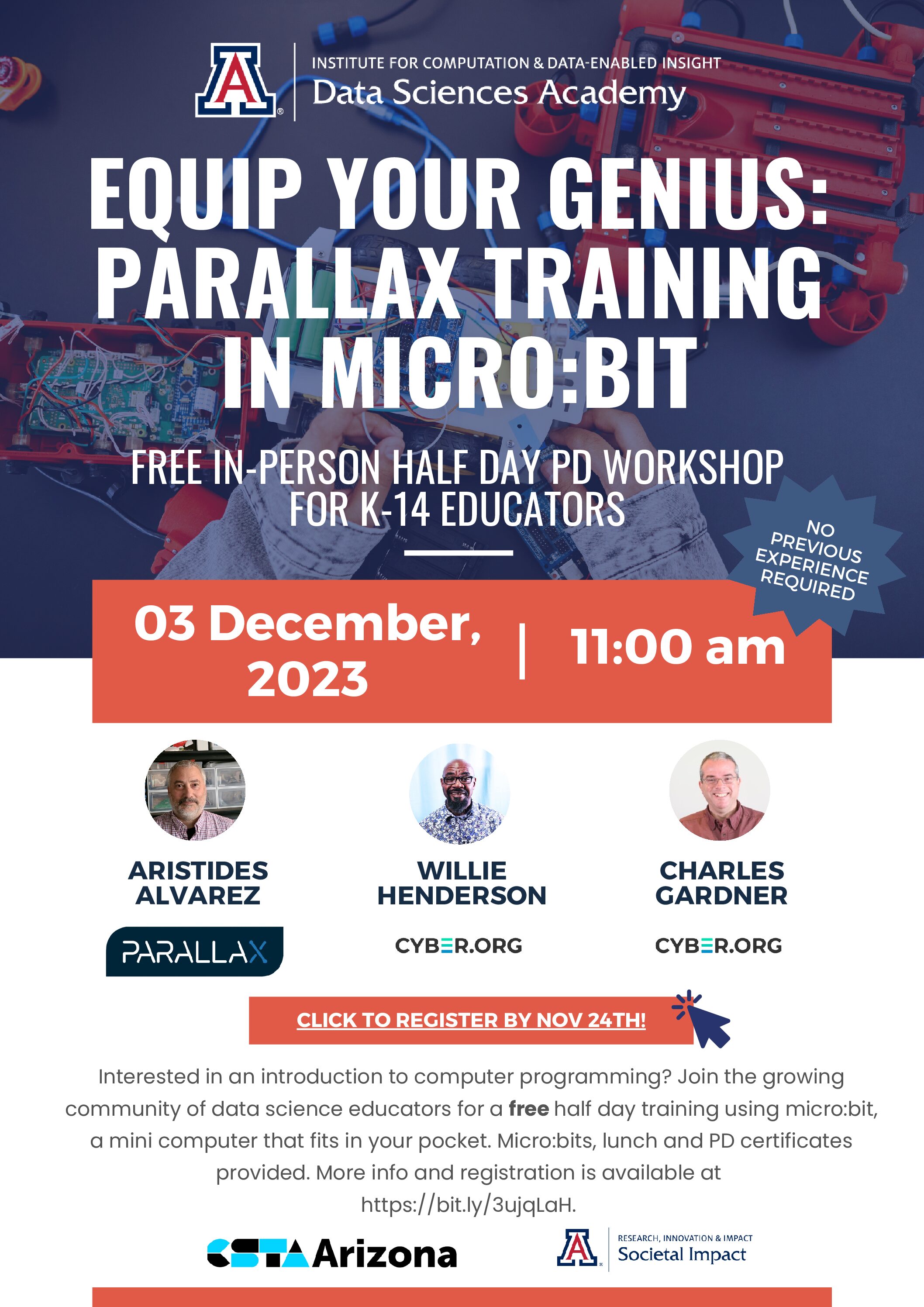 For questions regarding this resource, please contact Data Sciences Academy.
Contact Name:

Angela Marquez

Email Address:

ayazzie@arizona.edu