This session will focus on supporting all learners in the middle school math classroom.
Students come into our classroom with a variety of learning experiences and knowledge.  In this workshop we will explore best practices and strategies that support math fluency and language development to reach all students within grade level concepts.
All participants will receive free books:
Making Number Talks Matter: DEVELOPING MATHEMATICAL PRACTICES AND DEEPENING UNDERSTANDING, GRADES 4-10
Figuring Out Fluency – Operations With Rational Numbers and Algebraic Equations
This is an in person event at the Department of Education: 100 N. 15th Ave.
Thursday, July 20 from 8:30am-3:30pm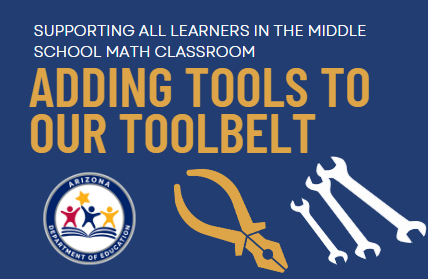 For questions regarding this resource, please contact Arizona Department of Education.
Contact Name:

Marisa Tualla

Email Address:

marisa.tualla@azed.gov