Sin Fronteras PD Sessions: Saturday, September 24th, 2022
1140 N Colombo Ave., Sierra Vista, AZ or via ZOOM
____________________________________________________________________________
Project-Based Learning; Students, Community and Place-Based Learning
September 24th, 9:00 AM – 10:00 AM
Rachel Carpenter, Leslie Ferre, & Melany Coates, Noyce Borderlands Master Teacher Fellows
Join us as we explore how to build connections between students and community by facilitating real world engagement involving relevant culture, history, and current issues related to STEM. In our first session, participants will define the meaning of community to build and deepen our understanding of our own identity and purpose within different levels of the community. Before joining us, we ask you to think about and identify the various communities that you are a part of, and bring your sense of purpose and commonality within those groups of people with diverse characteristics.
ACCESS SESSION VIA ZOOM AT: https://arizona.zoom.us/j/83539587164 
Agrivoltaics; Engaging Students in STEM Field Practices with Agrivoltaics
September 24th, 10:15 AM – 11:15 AM
Benjamin Davis, Mark Ortega, & Tim Malan, Noyce Borderlands Master Teacher Fellows
Join a teacher-leading-teacher professional learning community and earn access to agrivoltaic kits for your classroom as we continue exploring how Agrivoltaics can provide sustainable solutions for global challenges involving food, energy, and water. In this session we plan to continue our discussion from this summer's Agrivoltaics Institute at the Biosphere 2. How do you plan to use your kits in the classroom? Does the shared curriculum resource work for your age-group? What modifications and support will you need? Participants from this summer's Agrivoltaics Institute are encouraged to attend, but other teachers are welcome to join.
ACCESS SESSION VIA ZOOM AT: https://arizona.zoom.us/j/87071102548
Math Teacher Circles; Elevating the Use of Graphic Organizers to Maximize Student Engagement
September 24th, 12:30 PM – 1:30 PM
Charles Collingwood, Blais Cross, Elizabeth Doran, & Nathan Sendgikoski, Noyce Borderlands Master Teacher Fellows
Are your students tired of using the same old graphic organizer? Are you looking for fresh new ways to capture your students' attention? Come join us as we explore better uses of graphic organizers that enhance student dialogue, engagement, and reflection. See you there!
ACCESS SESSION VIA ZOOM AT: https://arizona.zoom.us/j/87171057228
Grant Writing
September 24th, 1:45 PM – 2:45 PM
Melanie Greene & Elizabeth Doran, Noyce Borderlands Master Teacher Fellow
Join successful grant writer, Melanie Greene, to answer your questions and concerns about grant writing. Melanie will provide instruction on how to write grant proposals to get supplies, support activities in your classroom, and fund your professional development. Please prepare by reviewing Melanie's 'Grant Writing for Teachers' document to become familiar with some basic grant writing information and help develop your ideas and questions.
ACCESS SESSION VIA ZOOM AT: https://arizona.zoom.us/j/87648038855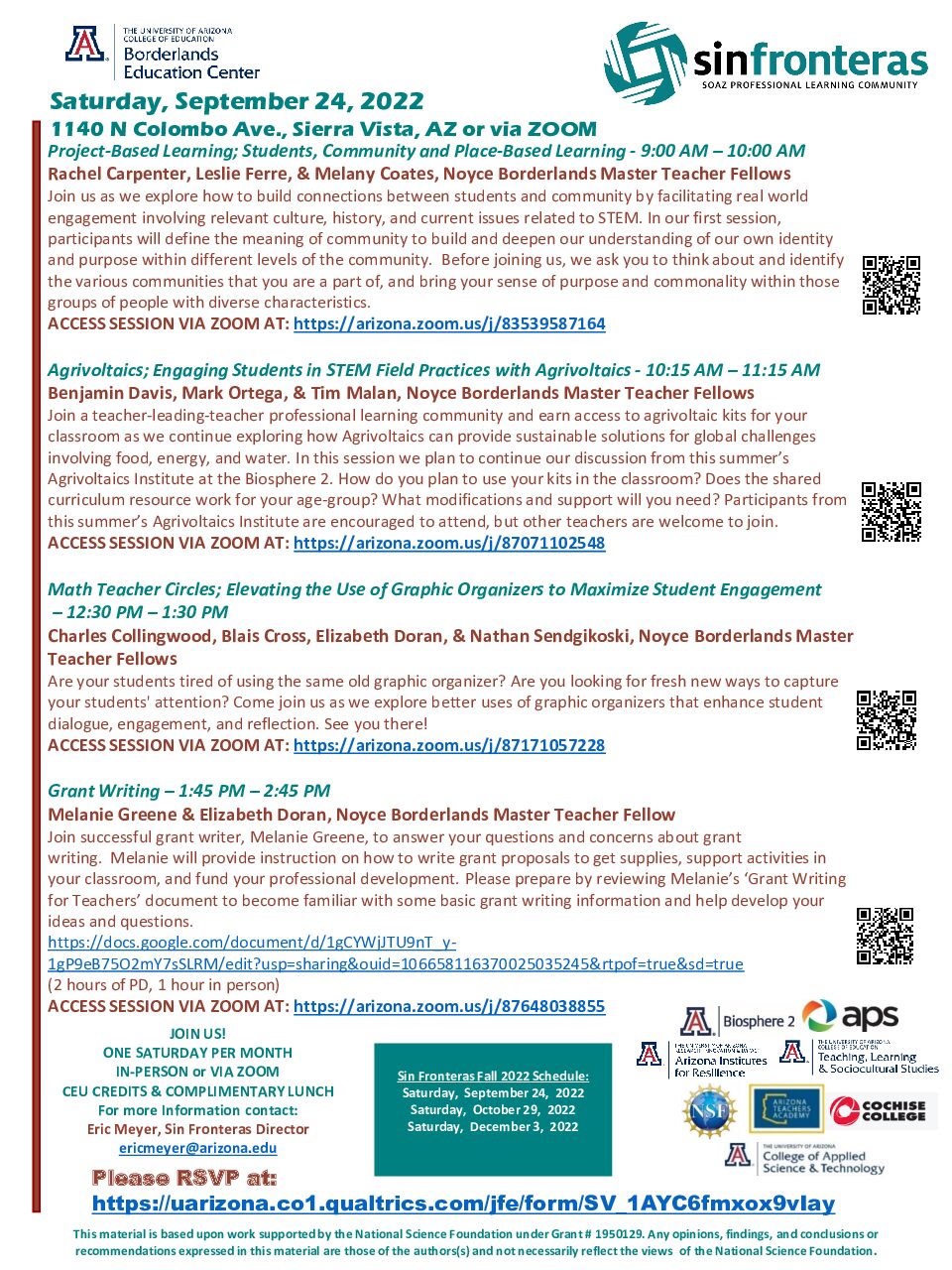 Tucson Values Teachers is providing limited scholarships for educators to attend PD opportunities, if you are interested, click here for more information
For questions regarding this resource, please contact UA Borderlands Education Center: Sin Fronteras.