The History of TREC
University of Arizona College of Education Dean Bruce Johnson, former Dean Ron Marx, and Carrie Brennan from the CITY Center for Collaborative Learning began with an idea to support the region's teachers. They began a planning year, funded by a grant from the Community Foundation for Southern Arizona. Jen Kinser-Traut, a former Tucson teacher and math educator, was hired as the director and led the development of TREC. During the 2018-2019 school year, TREC began with a resource and needs assessment to better understand the professional development resources in the region as well as teachers' needs. In January 2019, TREC collected 1,396 survey responses from teachers (early childhood through 12th grade), as well as 200 survey responses from principals, early childhood directors, district professional development providers, nonprofit professional development providers, and University of Arizona professional development providers. The data from these surveys helped to support and guide a retreat where over 50 of the region's education stakeholders began designing TREC.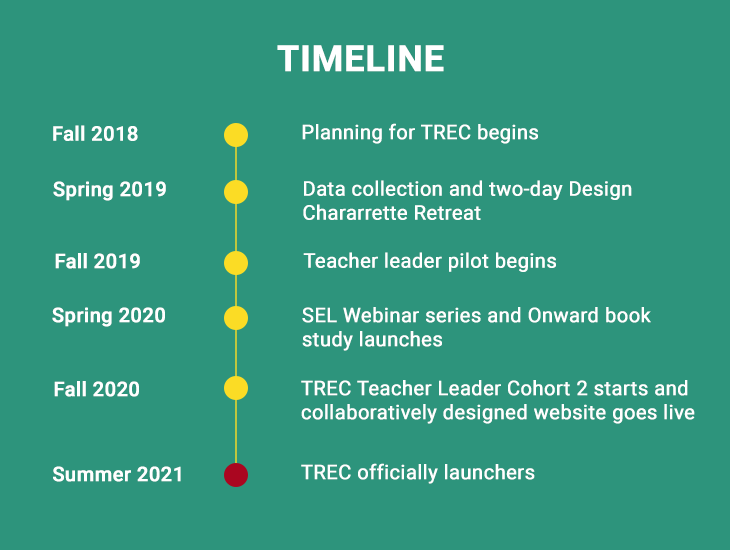 Our 2020-2021 Goals
Launch and Refine website
Launch and refine a website with resources relevant to local educators' needs, including PD Events, access to on-demand resources, teacher networking opportunities, and much more.
One-day Retreats
Hosting a virtual fall retreat and two one-day retreats (January and May), to bring together a group of approximately 60 stakeholders to support teacher, district, and community members' input and forward movement of TREC.
TREC Teacher Leaders
Cohort 1: Our Pilot group, or Cohort 1, consists of 8 TREC Teacher Leaders. These teacher leaders are currently each leading book studies on Onward, focused on Emotional Resiliency of Educators.
Cohort 2: Ten new teachers are TREC's Cohort 2 of Teacher Leaders. In the first year of this two-year program, they are developing and implementing high-needs professional development opportunities for teachers.
Click here to read more about our teacher leaders.
June Summit
The TREC Teacher Leaders will lead the development of a June Summit.
Last year, June 2020, the focus was on Social Emotional Learning and Emotional Resiliency and was redeveloped into a webinar series due to COVID-19. During our 2019 data collection, both teachers and districts identified SEL as a key professional development need in the region.
Further develop Infrastructure
Developing the infrastructure for TREC, specifically the management and development teams. This is the final year of a two-year building capacity phase. TREC will officially launch Summer 2021.
Financial Plan
Producing a long-range financial plan and ensuring long-term sustainability.