The 2023 JUNE Summit is coming up on Saturday, June 3rd!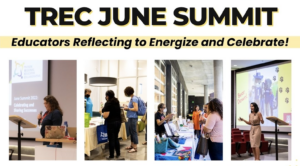 TREC's mission is to bring together the region's educators, resources, and partners to support their evolving professional growth.  Our program officially launched in July 2021, and we are thrilled to be doing this work with the community and educators!  Check out the TREC video to learn more about our organization!
Our Partners
We partner with community Professional Development (PD) providing organizations, regional schools and school districts, educational agencies, and community organizations. See our whole list of partners on the Organizations page. Reach out if you are interested in becoming a partner. We couldn't do this work without our partners!
Become a Partner
Upcoming Webinar & Events
Southwest Human Development
Monday, May 29, 2023
Free
Welcome to Foundations Expulsion Prevention Training – We are excited to share this important information with you, and work…
More Info
Pima County School Superintendent's Office
Wednesday, May 31, 2023
$75
If you've ever wanted a conference that was designed especially for YOU?     Congratulations, you've …
More Info
See More Resources
0
Resources Provided
0
Teachers Participating
0
Partner Organizations