TREC is a group of educators committed to supporting teacher professional development in the Tucson Region. We want to build professional development capacity, increase teacher retention, and develop teacher leaders.
Our mission: TREC brings together the region's educators, resources, and partners to support their evolving professional growth.

Our vision: A collaborative community that cultivates a thriving teaching profession.
---
Current Efforts
TREC is excited to be planning this year's June Summit: Celebrating and Sharing Successes!  Make Sure to Save the Date for Saturday, June 4th for a full day of professional learning and connecting with fellow educators, birth – 12th grade.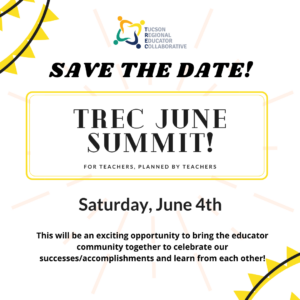 TREC 2021 Impact Report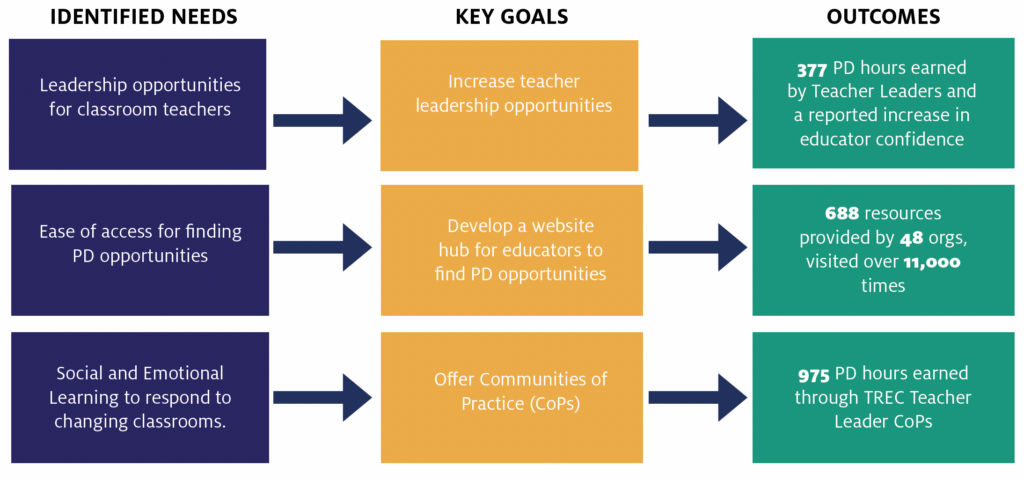 This past year, in 2021, we held 12 TREC webinars attended by over 600 educators, on our website hub the TREC PD Partners have listed over 500 additional PD Events, Programs, and On-demand resources for teachers, and we have had over 11,000 users (mostly educators) visit the site since it was created. Through our Communities of Practice and Teacher Leader Program, educators have earned over 900 hours of professional development. Check out our full 2021 Impact Report!
September 2021 Teacher Survey
In September 2021, TREC conducted a survey that was answered by over 1,000 educators.  Given the many changes since our original 2019 survey, we determined it was time for another data collection effort to ensure that TREC's work is aligned with the current teachers' needs.  We are excited to share the 2021 TREC Teacher Survey Report.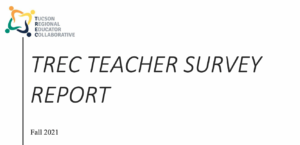 Communities of Practice
We have begun our work with Communities of Practice (CoPs) for the 2021-2022 school year. These CoPs reach across districts and bring together educators (birth – 12th grade) to broaden their professional learning and build upon their knowledge and expertise. To learn more about these CoPs click here.
2021-2022 TREC Communities of Practice
Onward Book Study on Educator Emotional Resilience:
Trauma-Informed Educator CoP
Leading While Female CoP
Visual Art CoP
Read more about these CoPs here.
If you are interested in joining a TREC Community of Practice, please email TREC Director Jen Kinser-Truat: jkinser@arizona.edu
---
Join us for Time with TREC each Monday, anytime between 4pm to 5pm, as a chance to connect with TREC.
We will use the same zoom link each week! https://arizona.zoom.us/j/86854217945
---
TREC officially launched JULY 2021! 
We are excited to share our TREC video with you!
A huge THANK YOU to everyone who helped launch TREC:
Thank you to everyone who started three years ago in the planning phase.
Thank you to everyone who were integral in building capacity.
Thank you to our partnering schools and districts, PD providers, community organizations, educational agencies, funders, and all who have engaged with our organization.
Thank you to the TREC Teacher Leaders
Thank you to everyone who helps spread the word to colleagues
We connected educators with professional development resources, celebrated teachers with #WhyITeach and  #TRECarizona, and came together both virtually and in-person to think big picture about the state of education in Arizona. 
---
Social Media Campaign:
You can still join our social media campaign and post #WhyITeach or tag us with #TRECarizona! You can post on TREC's Facebook page, Instagram, Twitter, or complete this Google form and we will do the work for you!
Professional Development Spotlight Events!  
The PD Spotlight webinars featured 12 different Professional Development (PD) providing organizations. Each organization presented for 10 minutes about the resources they offer educators. Follow the link below to view the recording of the webinar or click on the individual organizations to learn more!
TREC PD Provider Spotlight (July 27)
Hybrid Launch Event: Check out the TREC Launch here!
Video Link: https://vimeo.com/586878107/aaedc81add
KOLD News 13 reports: "Tucson teacher support program launches as in-person learning resumes."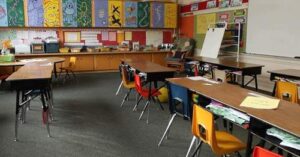 KGUN 9 On Your Side reports: "UA launches new program to support Southern Arizona teachers."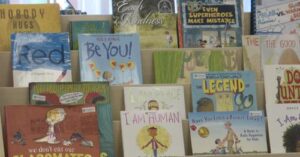 ---
Additional TREC Efforts
TREC continues to partner with Ben's Bells, Tucson Values Teachers (TVT), and the Southern Arizona Association for the Education of Young Children (SAZAEYC) to create Virtual Gratitude Walls!  People share messages of thanks and gratitude to let educators, staff, and/or colleagues know the community appreciates their vital work.  Take a look at those messages here.
December 2021: https://padlet.com/liz329/Fall2021
Spring 2021:  https://padlet.com/liz329/SpringGratitude 
December 2020:  https://padlet.com/liz329/Gratitude
Tucson Regional Educator Collaborative 
Working together to support the professional development of teachers in the Tucson region.
We believe that teachers are professionals and should have more opportunities to advance their careers. Our rationale is built on acknowledging that no single entity can do it all.  This is why we have chosen to bring in a number of partners that will invite innovative ideas and collaborations across stakeholders to go beyond individual district's or school's professional learning efforts.
The University of Arizona College of Education is uniquely positioned to launch TREC due to its expertise and resources.