The Science Teacher Residency (STaR) program was launched in response to the need to expand access to high-quality professional development for Arizona's science teachers. This new STEM (science, technology, engineering, and math) teacher training program, generously supported by Helios Education Foundation, provides instruction and mentoring to third through eighth-grade teachers at no cost to them. The STaR program is designed to enhance educators' mastery of science content and equip them with the skills needed to effectively teach and engage students.
This program seeks to remove all barriers, many of which are cost-related, for teachers who are looking for STEM training. The STaR program relieves the financial burden, covering all costs related to attendance, including travel, materials, and a stipend equivalent to funding a substitute for their classroom.
About The Program
The innovative, hands-on program starts with five days of instruction at the Science Center led by expert facilitators and content specialists. This training focuses on addressing common misconceptions about STEM subjects that are often taught in the classroom and giving participants the tools to take those same lessons back to their schools. Teachers also participate in two days of field trips at local businesses to showcase the practical application of STEM and connect them with professionals who use STEM in their jobs every day. The goal is for those professionals to later be guest speakers in their classrooms, or to help coordinate class visits to their workplace.
Participating teachers also receive a year of individualized mentoring and coaching as part of STaR. At the end of the program, they will walk away with all the materials needed to create lesson plans to effectively teach what they learned.
https://www.azscience.org/educators/science-teacher-residency-star-program/
Environmental Science: June 12, 13, 14, 15 from 8 am – 4 pm
Physical Science: July 10, 11, 12, 13 from 8 am – 4 pm
Earth Science: October 13, 14, 20, 21 from 8 am – 4 pm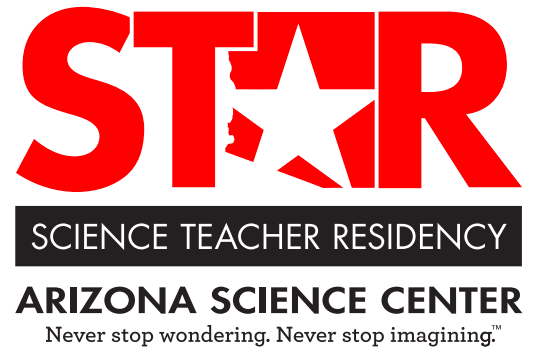 For questions regarding this resource, please contact Arizona Science Center.
Contact Name:

The CLL Team

Email Address:

str@azscience.org