TTA serves as the perfect introduction to emotional wellbeing and mental health topics by using a text messaging platform to deliver pre-programmed text messages to small groups. The activities are proven to increase comfort and likelihood of participants to talk about and take care of their mental health. Each activity is 50 minutes and led by trained facilitators.
Provides staff with an activity that helps them talk with their colleagues about how to handle stress, explore evidence-based coping strategies, and learn how to help a student they are concerned about.
Learn more about TTA for schools.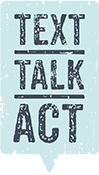 For questions regarding this resource, please contact Pima County Health Department.
Contact Name:

Laura Fagan

Email Address:

laura@texttalkact.com