The Tucson Regional Educator Collaborative (TREC) is excited to bring to you the 2023 TREC June Summit on Saturday, June 3rd, a full day of professional learning for educators, birth—12th grade! This will be a great opportunity to bring the educator community together to celebrate successes/accomplishments and to learn from each other.
The summit will be held at the University of Arizona campus's ENR2 Building. The theme of the summit is, "Educators Reflecting to Energize and Celebrate" , with a focus on birth—12th grade educators and those who support them. Involved in the planning are the four cohorts of TREC Teachers Leaders, ensuring that teacher voices continue to guide TREC's efforts. In short, this event is for you!
The agenda will include a keynote, workshops, lunch, and round table discussions, along with some exciting giveaways and celebrations.
For the full list of conference sessions and descriptions visit: http://bit.ly/40zUma5 
Agenda
7:45 – 8:30 am: Registration / Resource expo
8:30 – 9:45 am: Welcome and Keynote
10:00 – 11:10 am: Workshop/Morning Session A
11:20 – 12:30 pm: Workshop/Morning Session B
12:30 – 1:30 pm: Lunch
1:30-2:40 pm: Teacher Talks/Afternoon Session C
2:45 – 3:15 pm: WRAP-UP—Cake and Raffle
Tickets:
• Educator with partner district: $40
• Educator with non-partner district: $75 — scholarships of $35 off ticket price offered by Tucson Values Teachers (first-come, first-served basis)
• Early Childhood Educator: $75 — scholarships of $50 off ticket price available through a grant from the Helios Education Foundation (first-come, first-served basis)
• Community Partner: $75
For additional information please view the June Summit 2023 Page: https://trecarizona.org/june-summit-2023/
For questions, please contact: trecarizona@arizona.edu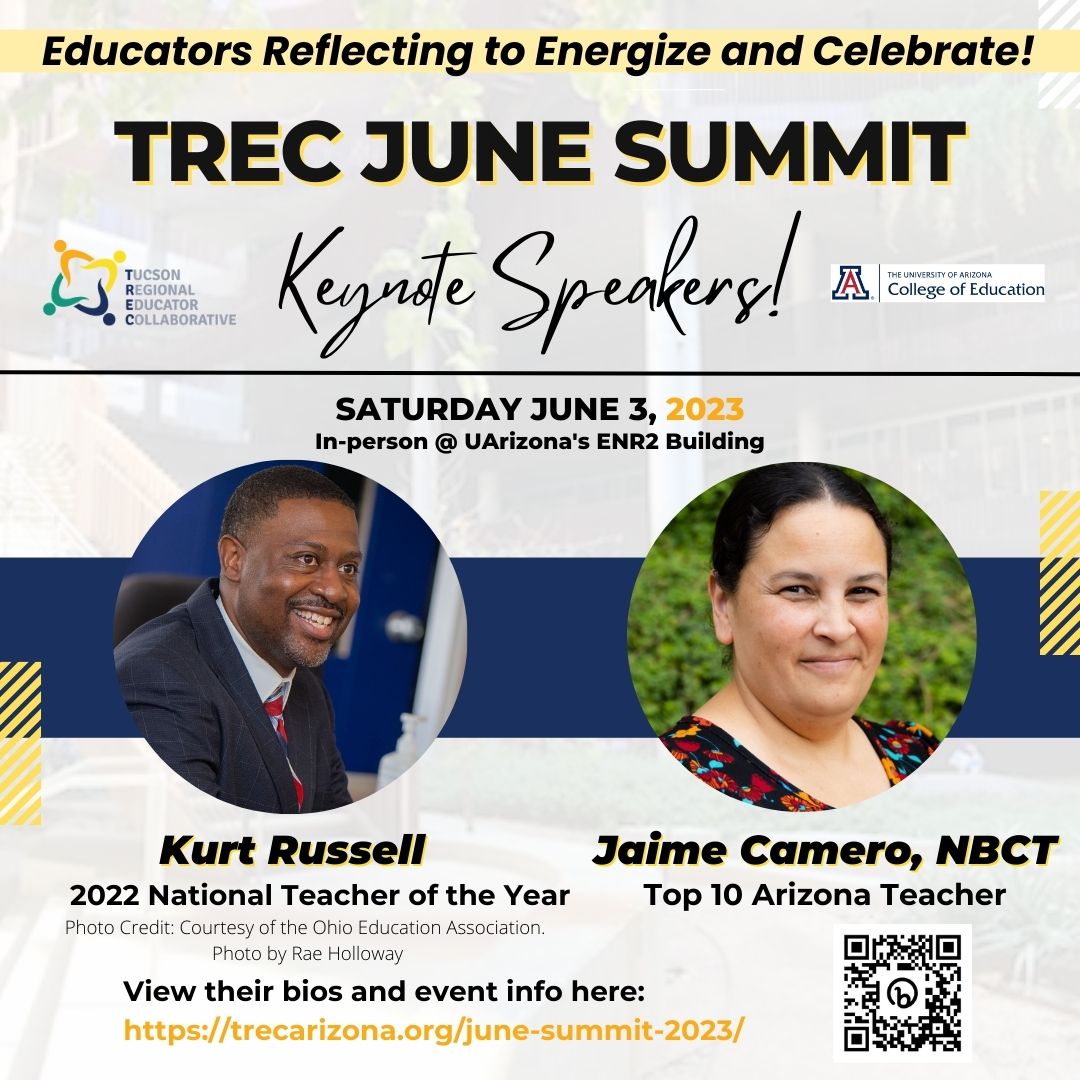 ---
Tucson Values Teachers is providing limited scholarships for educators to attend PD opportunities, if you are interested, click here for more information
---
For questions regarding this resource, please contact Tucson Regional Educator Collaborative.
Contact Name:

Alicia Durbin

Phone No:

(520) 621-7511

Email Address:

trecarizona@arizona.edu