TREC's vision is a collaborative community that cultivates a thriving teaching profession. For this December event we want to take a moment to hear from and celebrate teachers! Join us for an interactive workshop that celebrates educators, offers gratitude, and highlights bright spots during another challenging year. With a focus from the book Onward by Elena Aguilar we will approach a "Trifecta of Mental Habits: Bright Spots, Curiosity, and Appreciation" as an approach to emotional resilience!
You will have an opportunity to connect with other educators and TREC Advisory Board Members to share your challenges and bright spots from the year.  We will be joined by Ben's Bells, TVT, SAZAEYC and local author/illustrator Adam Rex!
Then, we will end with giveaways and gift cards!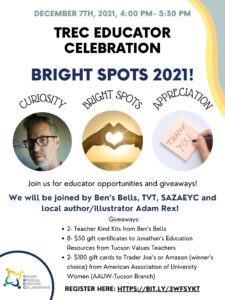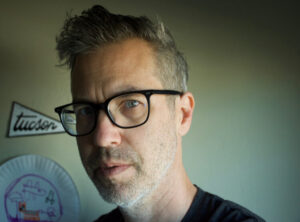 Adam Rex is the author and illustrator of more than forty books for kids. These include New York Times bestselling picture books like Frankenstein Makes a Sandwich, School's First Day of School, (with illustrator Christian Robinson), and Chu's Day (with author Neil Gaiman). His work has been adapted for film and television.
He's won some awards, including the Margaret Wise Brown Prize in Children's Literature and the National Cartoonists Society Book Illustration Award. His debut novel was shortlisted for the Andre Norton Award for Young Adult Science Fiction and Fantasy. He used to make art for games like Dungeons & Dragons and Magic: The Gathering. Sometimes he still does.
He lives in Tucson, Arizona. He has—from smallest to largest—a hermit crab, cat, dog, son, and wife.
We hope you can join us for this fun and interactive educator celebration!
Please rate this On Demand resource here
For questions regarding this resource, please contact Tucson Regional Educator Collaborative.
Contact Name:

Alicia Durbin

Phone No:

(520) 621-7511

Email Address:

trecarizona@arizona.edu