We invite you to join us for one or more of the TREC 2023-2024 Communities of Practice (CoP) being offered. We encourage all birth- 12th grade teachers (both new and experienced), support staff, leadership, and all other educators, as well as Teach AZ graduates participating in the COPTA program, to join a CoP!
TREC Community of Practice (CoP) Definition: 
Through the different CoPs TREC offers, educators will build community while deepening their knowledge, understanding, and expertise to better support their passion for the teaching profession and student success (adapted from Wenger, McDermott, and Synder, 2002).
Benefits of Joining a CoP:
Collaborative learning in areas identified by teachers as essential to educator wellbeing aand student success;
Educators from different sites and districts connecting with each other and building support networks;
Support and guidance from our amazing cohorts of TREC Teacher Leaders;
Recertification Hours (via certificate);
A copy of the book each CoP is based on.
The TREC CoP meetings will begin in August/September, and are semester- to year-long programs.  Each CoP listed below will meet at least once a month either in person, virtually, or a combination of the two.  These CoPs are led by TREC Teacher Leaders.  Please note, 23-24 CoPs are only able to support Southern Arizona educators.
Please read below to find out more about the individual CoPs offered for the 2023-2024 school year.
Educator Emotional Resilience
Early Childhood Math Literacy (FULL)
Equitable Grading
Mentoring
**We are offering a  Meet and Greet event on Thursday, August 17th, where you will have an opportunity to learn more about each of the CoP(s) being offered.  You can register for the Meet and Greet by visiting this link: http://bit.ly/44nXkRr. Teachers are welcome to sign up for a CoP whether they attend the Meet and Greet or not.  
CoP Descriptions
Educator Emotional Resilience
This Community of Practice is focused on educator emotional resiliency and uses the book Onward, by Elena Aguilar.  Participants read a chapter each month and participate in a virtual or in-person monthly meeting during which we discuss the chapter and engage in emotional resilience activities.
Book: Onward by Elena Aguilar
Led by: TREC Teacher Leaders Anamika Sood (TUSD), Jillian Powers (Flowing Wells), Shay Humphreys (Amphi), Kate Kelsey (Independent), Cerelo Flores (Baboquivari), Rene Acereto (TUSD), Jessica Leonard (Marana), and Sheila Callahan (Marana)
Meeting Times: Third Tuesday of the month, August thru May, 4:30 PM – 6:00 PM
Early Childhood Math Literacy Echo
This Community of Practice, run in partnership with Project Echo, is currently full. Please look for upcoming Early Childhood Math PD in the spring!
Equitable Grading
This Community of Practice will challenge traditional approaches to assessment and strategize to use equitable grading in a traditional grading setting. Participants will explore equity issues related to grading and how to overcome them in your classroom and/or school.
Book: Grading for Equity by Joe Feldman.
Led by: TREC Teacher Leader Jaime Camero (Flowing Wells)
Meeting Times: Fourth Tuesday of the Month, August thru May, 4:30 PM – 6:00 PM
Note: Equitable Grading meetings will be held both in person and virtual, alternating months.
Mentoring 
This Community of Practice will support current mentors or those who want to become mentors.  Teachers with 3+ years of experience interested in mentoring and/or currently mentoring are encouraged to join.
Books: Mentoring Each Other by Lana Parker and Diane Vetter, and The Coaching Habit by Michael Bungay Stanier
Led by: TREC Teacher Leader Jenny Lichtsinn, Ph.D. (Northland Pioneer College) and Ellen Floyd (TUSD)
Meeting Times: Second Tuesday of the Month, August thru May, 4:30 PM – 5:30 PM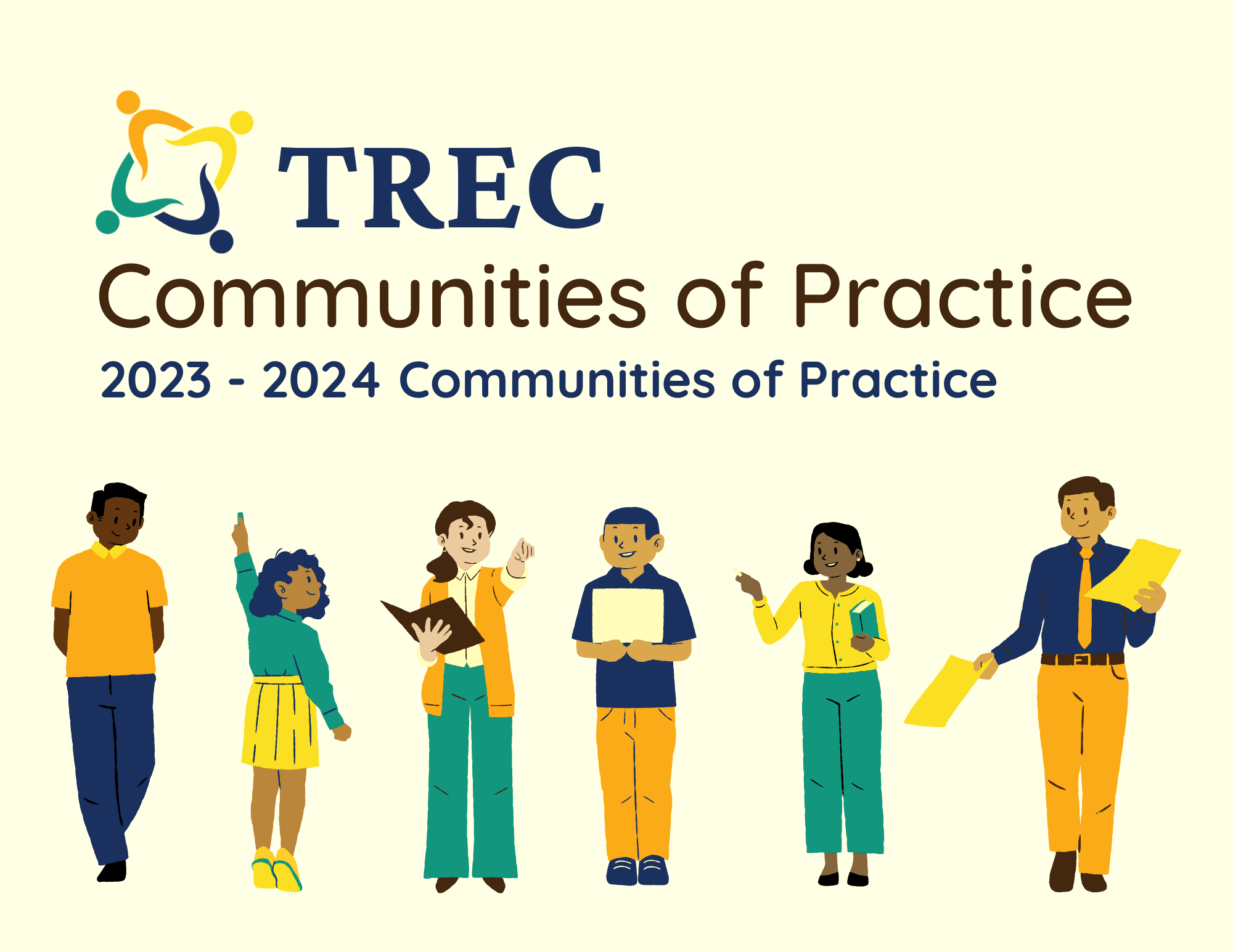 For questions regarding this resource, please contact Tucson Regional Educator Collaborative.
Contact Name:

Alicia Durbin

Phone No:

(520) 621-7511

Email Address:

trecarizona@arizona.edu