Instructional strategies: Let's look at theInstructional shifts and beliefs in teaching mathematics and how can we incorporate the effective math teaching practices into the classroom.
Deep dive into content: Ratios and proportions, expressions and equations, are standard domains introduced in middle school where students build that conceptual understanding. Let's learn different representations and strategies to build mathematical understanding.
All participants will receive a free book: Taking Action: Implementing Effective Mathematics Teaching Practices in Grades 6-8
2 Day event at the Department of Education: 100 N. 15th Ave.
Monday, July 17 from 8:30am – 3:30pm
Tuesday, July 18 from 8:30am – 3:30pm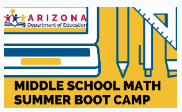 For questions regarding this resource, please contact Arizona Department of Education.
Contact Name:

Marisa Tualla

Email Address:

Marisa Tualla marisa.tualla@azed.gov