Nurturing Creativity and Agency in L2 through Digital Storytelling Projects
Wednesday, March 22, 2023, 10-11:30 AM (Arizona)
To see the time of this event where you are, visit: https://tinyurl.com/2kyyfzmz
Webinar presented by Elyse B. Petit (Santa Rosa Junior College, California)
Digital Storytelling (DS) is a textual narrative embedded with other modes of communication. It consists of a "short, two to three-minute mini-film usually based on still photos brought into a multimedia format with a textual narrative read with the narrator's voice (Lundby, 2008, p.366). Many studies have examined the integration of digital stories in educational settings. Still, studies have yet to explore DS in Foreign Language/L2 learning contexts and the beneficial impact on students' cognition, language learning, and technology and media skills. Inspired by the Story Center's movement and mission to "create spaces for listening to and sharing stories" and to provide "skills and tools that support self-expression, creative practice and community building" (https://www.storycenter.org), Dr. Petit uses the Center Story's steps into the curriculum to help students to produce personal and unique digital narratives in L2.
Through samples drawn from learners' productions, this webinar will present how digital narratives engage students with all language modalities (writing, reading, listening, and speaking), combine various modes (soundtrack, voiceovers, and images) and genres (interview, documentaries, and moving and still images), and develop coherent narratives in which they can express their emotions and values.
In this webinar, participants will 1) define digital storytelling and reflect on what it entails in foreign/L2 language classrooms.; 2) consider the challenges and strategies to organize and assess digital storytelling projects; and 3) discuss how to implement DS in their teaching context.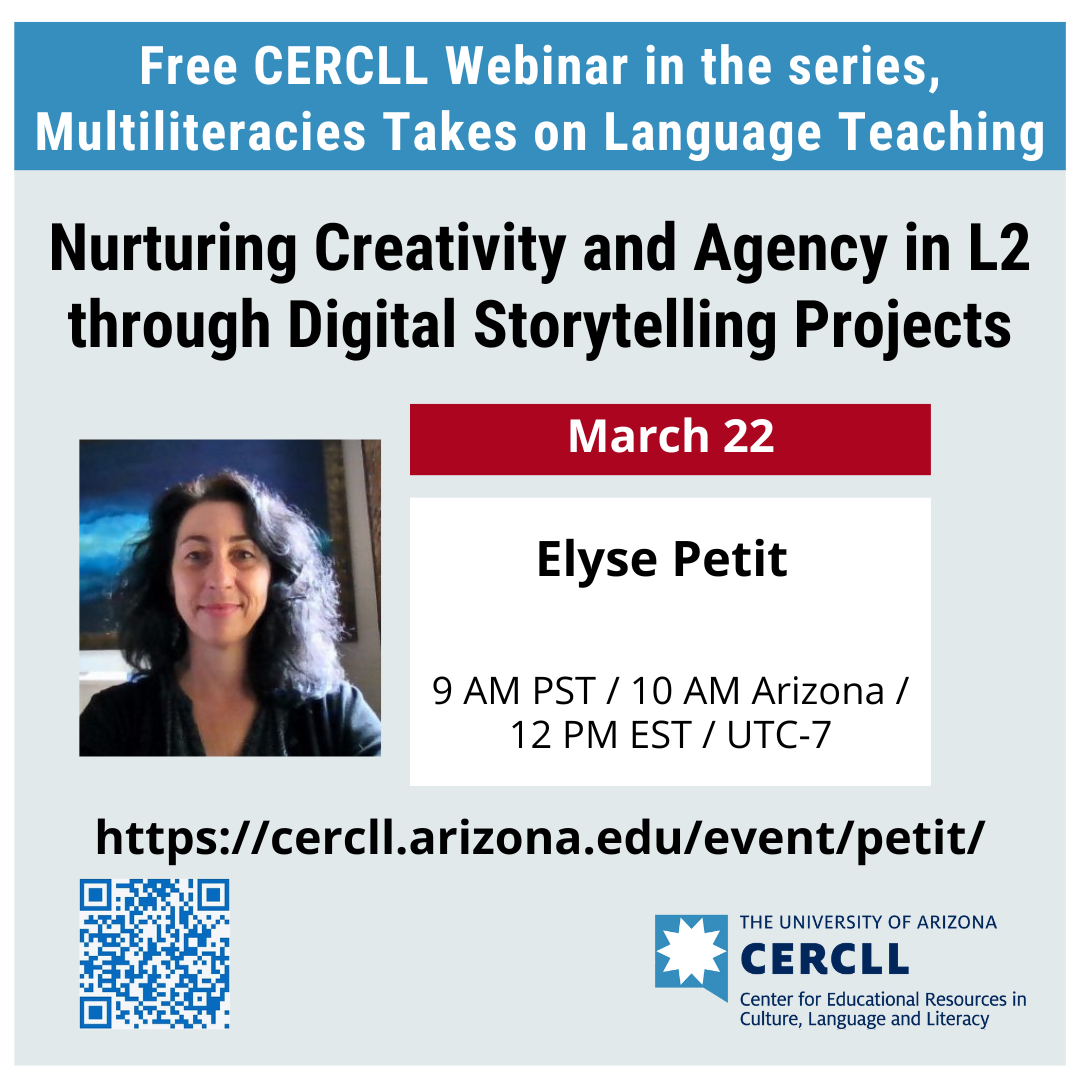 For questions regarding this resource, please contact Center for Educational Resources in Culture Language and Literacy.