SPECIAL GUEST on July 24th at 9:00am! John SanGiovanni, author of Productive Math Struggle, will be joining us!
Session 1- Math Identity
Setting up a classroom environment for productive struggle can be a challenge. Students can lack math confidence and struggle can be difficult. Facing challenges and persevering is a skill that can be fostered with students within the math classroom.  We will explore practical ways for how to put that into practice in the math classroom and set up our classroom and students for success at the beginning of the school year.
Participants will engage in activities they can take back to the classroom. They explore their math identity and get to know you activities with students.
*This is an online webinar. Sign up for:
Session 2-Community Norms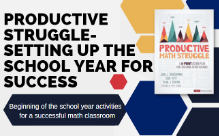 For questions regarding this resource, please contact Arizona Department of Education.
Contact Name:

Marisa Tualla

Email Address:

marisa.tualla@azed.gov