If you've ever wanted a conference that was designed especially for YOU?     Congratulations, you've  just found it!
Join us to hear these engaging speakers along with many others as they show you how to reignite your passion, celebrate the incredible person you are, and discover how to enjoy and live your best life!
Keynote Speaker: Timothy D. Kanold, PhD
Timothy Kanold, Phd, is an award-winning educator that conducts inspirational professional development seminars worldwide. He is the co-author of "Educator Wellness: A guide for Sustaining Physical, Mental, Emotional and Social Well-being".
Featured Speaker: Star Hansen, Certified Professional Organizer (CPO©) and Clutter Whisperer
Star Hansen has appeared on over 30 TV shows, a Tedx talk, Oprah, and is the author of "Why the F*#@ Am I Still Not Organized?" She looks at the deeper meaning of your stuff to help you figure out WHY you feel overwhelmed.
Featured Speaker: Dr. Kathryn Kennedy founder and executive Director of Wellness for Educators
Dr. Kathryn Kennedy is passionate about supporting educators worldwide. She is the author of "The Mind-body Connection for Educators" that focuses on more holistic, healthy, and wellness-centered approaches to living, being, and serving others.
…and much, much, more!
Registration link: https://schoolspimagov.wildapricot.org/event-5253253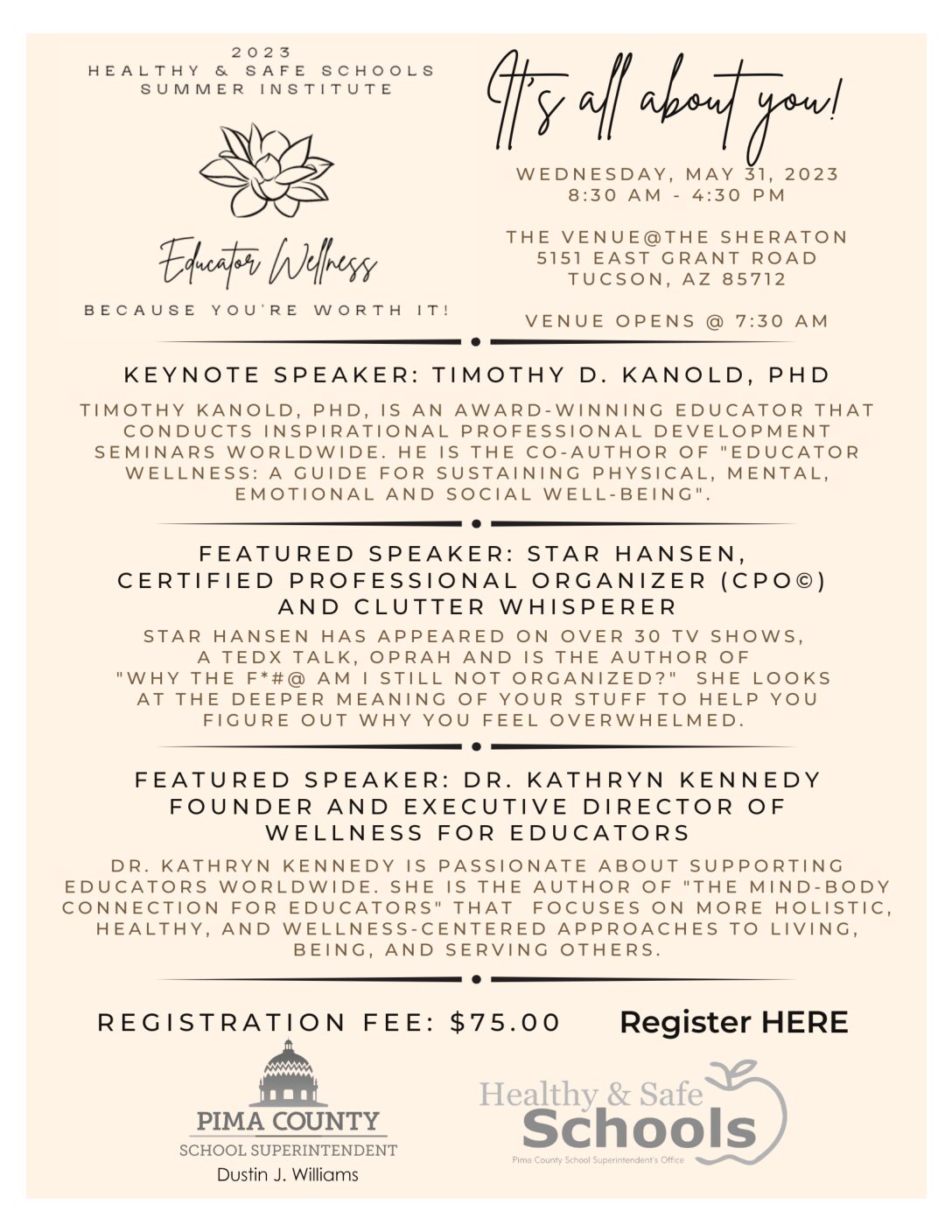 ---
Tucson Values Teachers is providing limited scholarships for educators to attend PD opportunities, if you are interested, click here for more information
---
For questions regarding this resource, please contact Pima County School Superintendent's Office.
Contact Name:

Monica Wright

Phone No:

520-724-8037

Email Address:

monica.wright@pima.gov